Mochi donuts are SOOOOOO good! They're not your typical donut. I use rice flour (Mochiko brand) instead of regular enriched flour, resulting in an almost sponge-like soft and chewy texture when you bite into it. I just love this chewy texture, which unfortunately had me craving more. That first bite hints at flavor, especially the burst of lemon. The lemon zest adds even more to the flavor and authenticity. Add the lemon-infused glaze and it's a lemony double whammy delivered to your taste buds!
What I like about these donuts is that they aren't as sweet as your regular glazed donuts, even with the confectionery glaze. Just this alone has me snacking on these donuts like there's no tomorrow (which isn't necessarily a good thing). Another difference with these donuts is that they are small–they don't rise as much as a regular donut. Mochiko flour isn't exactly self-rising. It is a type of sweet rice flour that is made from sticky rice. The sticky rice is first cooked, then dried. Then it is grounded into a fine powder, the rice flour.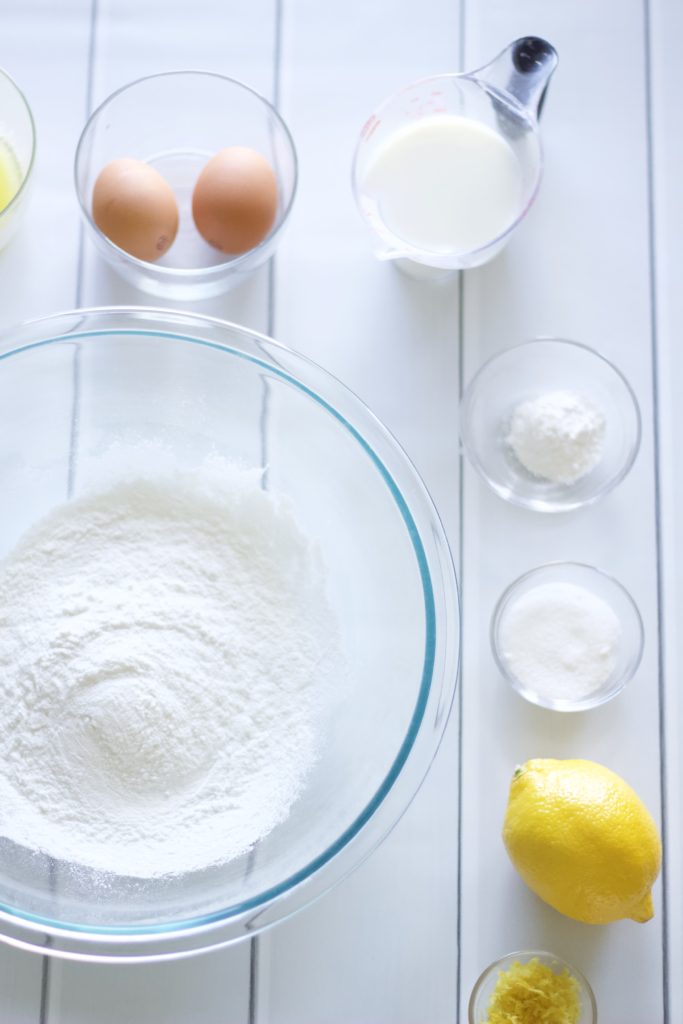 These donuts are quick and easy to make. They're slightly smaller than a regular donut because all-purpose flour isn't used. I made a dozen with this recipe and they were eaten in 2 days. By me. Yes, that's how good they are!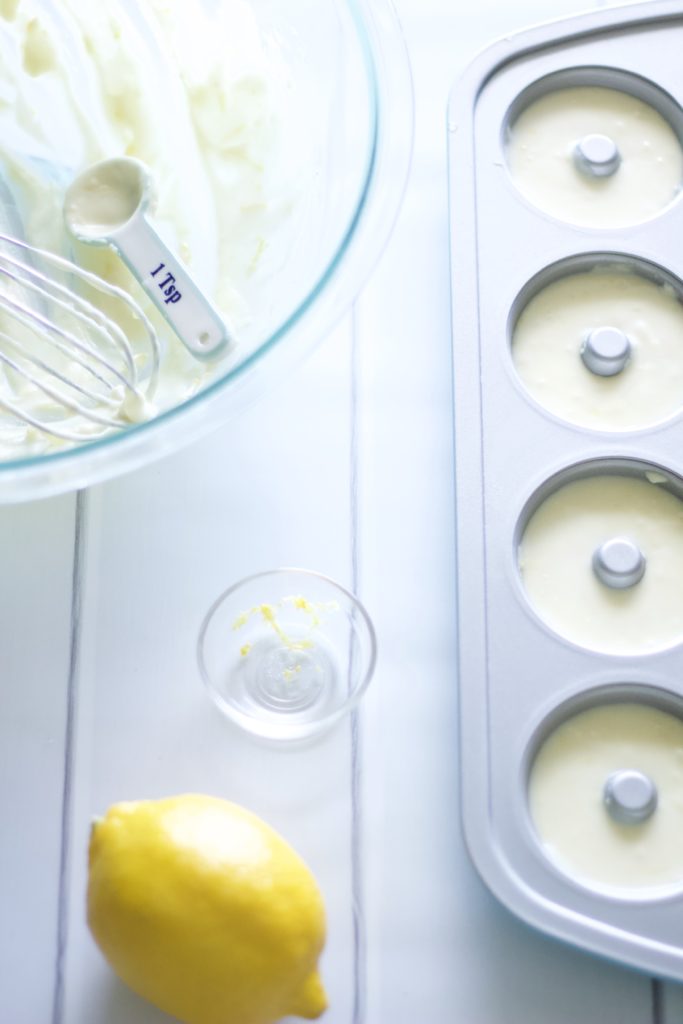 You can make these donuts the night before you plan a day at the beach with friends. Bring them only to see them eaten up in minutes! That's why you triple the recipe. Even then, I can't gurantee that you'll have any left.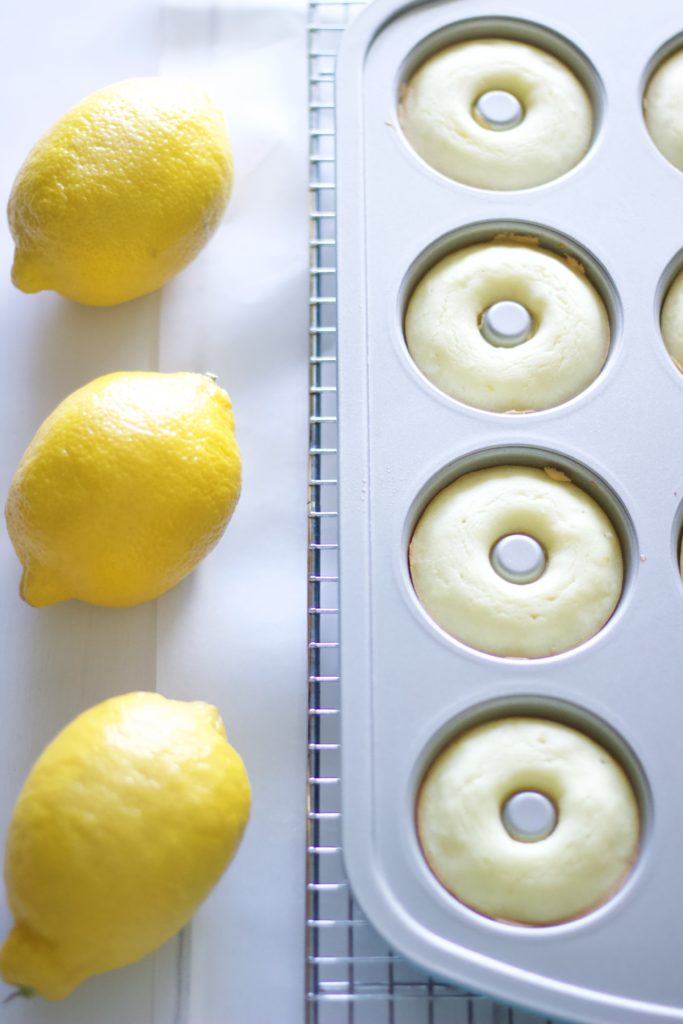 My favorite pans in my kitchen are my donut pans. I purchased them a few months ago from Pampered Chef and I must tell you that they're gorgeous! They're metallic (truthfully, I don't know what kind of metal) with a beautiful retro blue coating at the bottom of the pan. Donut pans are a must-have when making donuts, especially for the recipe below. These donuts don't take long to bake, and you're not monitoring the temperature when frying donuts.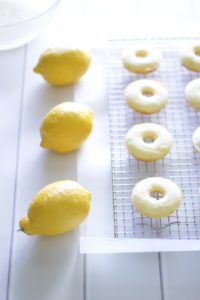 If you would love to have these pans, you can purchase them at Pampered Chef through my consultant Amanda here.
Print
Glazed Lemon Mochi Donuts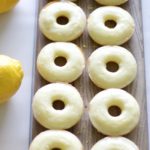 Not your typical donut. More like a snack, less like a breakfast pastry. Not so sweet, but you'll come back for more.
Author:
Prep Time:

25

Cook Time:

10

Total Time:

35

Yield:

12

1

x
Category:

breakfast

Cuisine:

American
Ingredients
2 cups sweet rice flour (Mochiko)
1/4 cup granulated sugar
Zest of 1 lemon
1/2 cup milk
1 egg
1/2 teaspoon baking powder
3 tablespoon buttermilk
1 teaspoon lemon extract
Glaze:
2 cups powdered sugar
3 tablespoons fresh lemon juice
a pinch of lemon zest
Instructions
Preheat the over to 350 degrees. Prepare donut pans by greasing the wells with butter or shortening.
Mix the sugar and lemon extract in a large mixing bowl until you form a paste . Whisk in the sweet rice flour and baking powder.
In a smaller bowl, whisk the eggs and add in the buttermilk, milk, and lemon zest. Pour into the large mixing bowl and mix until combined.
Fill halfway in each well of the donut pan.
Bake 8 – 10 minutes. Cool in the pan for about 3 minutes and then transfer to a wire rack to completely cool before adding glaze.
Glaze
Mix all ingredients in a bowl until slightly thick but runny. Adjust ingredients for consistency.

Dip the donuts horizontally in the bowl of icing until halfway submerged. Let sit on the wire rack until glaze is set.
Eat immediately.
Nutrition
Serving Size:

12

Calories:

191

Sugar:

19 g

Sodium:

36

Fat:

3%

Carbohydrates:

41 g

Fiber:

0.7 g

Protein:

2.8 g

Cholesterol:

53 mg
Keywords: snack donuts breakfast food pastry bakery treat cake lemon glaze dessert mochi baked